Edward Martin


Edward T. Martin had no inkling, growing up as a member of the Church of Christ in a small Texas town, that some day a seemingly simple Biblical question he had put to his Bible school teacher would re-shape his life and his future.  Not yet a teenager when the question first occurred to him, it was a shock to the Fundamentalist boy from Lampasas, Texas, that the teachers and elders of his church had no answer to the question of where Jesus was from ages twelve to thirty.  It seemed like a rather large amount of time to be left out of the Biblical accounts of his saviour's life on earth.  The answer he received that "God doesn't want us to know about that or it would have been in the Bible" was wholly unsatisfying.
The question stayed with him all the while he was studying for his Bachelor of Arts degree years later at the University of Alaska in Fairbanks.  There, he majored in Speech Communications with a minor in Secondary Education.  The question was still dogging him when he served in the Peace Corps in Afghanistan in the 1970's and continued to nag at him throughout the late 1970's and 1980's, when he was a teacher of adult education in the Fiji Islands, in Saudi Arabia and then in Peshewar, Pakistan.  By the time he became a staff writer and photographer for the Dispatch newspaper in Lampasas, Texas, he had begun writing about the issue of Jesus' Lost Years.  The mere suggestion that he made in one article, that Jesus might have spent part of the missing years in India, made him severely "out of step" with the prevailing Fundamentalist Christian thinking of his home town.  At that point, he learned what it was like to be something of an outcast among his own people, because the provincial townspeople considered Ed to be "out of touch with reality" for thinking that Jesus ever went to India.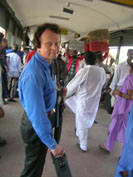 Edward T. Martin joined the National Education Association and the Texas State Teachers Association.  His career as a teacher of English as a Second Language (ESL) was interrupted many times by the call of adventure.  Ed's exploits as a traveler from Africa to Peru, and as a mountain climber, were written up in various newspapers.  And in all his travels, he always looked for writings and evidence about the Lost Years of Jesus.  He found interesting material in his Edgar Cayce study group, a group of students of the writings of America's "Sleeping Prophet," Edgar Cayce, who declared that Jesus was in India.  Then came his exposure to the writings of Aziz Kashmiri (CHRIST IN KASHMIR), Nicholas Notovitch (THE SECRET LIFE OF JESUS CHRIST), Levi Dowling (THE AQUARIAN GOSPEL), Elizabeth Clare Prophet (THE LOST YEARS OF JESUS), Holger Kersten (JESUS LIVED IN INDIA) and finally the Indian sage Paramahansa Yogananda (AUTOBIOGRAPHY OF A YOGI).  All contributed to the case that Jesus lived in India.
Ed Martin's manuscript for his book KING OF TRAVELERS: JESUS' LOST YEARS IN INDIA, became the first venture in 1999 for his enterprise called Jonah Publishing Company.  He published the book at personal sacrifice, selling his house in Texas to be able to undertake the research and travels necessary for the writing and to make the investment in publishing.  His meeting up with associate producer Robert Rotstan Jr. at a convention in 2003, and then Bob Rotstan's introducing him to Paul Davids, led to their work together on the film JESUS IN INDIA.