The Kashmir Tomb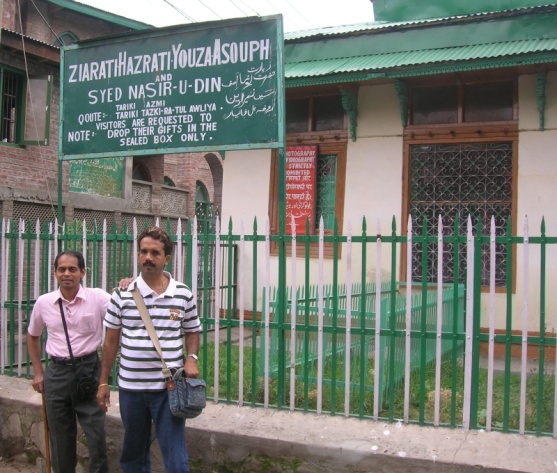 Producer Anil Kumar Urmil with Associate Producer for India Sanjay Shetye at the Rozabal Tomb where filming took place in war-torn Kashmir
WHO IS BURIED AT THE ROZABAL TOMB IN SRINAGAR, KASHMIR?
Muslims say it is a prophet from Egypt from the time of Jesus Christ. However, one branch of Muslims, known as the Ahmadiyya Muslims, claim the Egypt reference refers to the fact that Jesus came out of Egypt with Joseph and Mary, and Yuz Asouf, said to be buried in the tomb, refers to "the Son of Joseph."
Catholics and other Christians of course do not agree. Since it is widely accepted that St. Thomas (Doubting Thomas) preached in India and Pope John Paul II even came to Chennai, India, to pay homage to St. Thomas, some speculate as to whether the Rozabal tomb in some way relates to Saint Thomas, since the sarcophagus is in the Jewish position (east-west), it predates the Muslim era and it even has carvings apparently representing crucifixion wounds on feet.
| | |
| --- | --- |
| | |
| The footcarvings appear to show crucifixion wounds | A view in to the building housing the tomb. |
Thomas is famous for his Biblical saying that unless he saw the crucified Jesus alive and could examine the wounds, he would not believe in the resurrection -- and of course the New Testament tells us he then did see Jesus and the wounds of Christ.